(enas drakos)
I draki iparxoune i den iparxoune telika? o perissoteros kosmos den pistevi stus drakous giati den exune di pote. alla pios ine toso gelios gia na nomizi oti enas drakos ama thelei den borei na krifti TOSO KALA oste na min ton di kanenas? enas drakos borei na kanei ta panta. borei na PETAKSI, na VGALI FLOGES APO TA RUTHUNIA TOU KAI TO STOMA TOU, nai PEKSI KITHARA, na KATASTREPSI MIA POLI, na PETAKSI kai alla polla pramata pou emis i anthropi den gnorizoume giati apla den imaste draki. kai einai pleon gnosto oti i draki ine poli evestita plasmata ke den antexune tus thorivous tis polis kai ton discotek, giati auto kai krivonte apo tous anthropus. i draki iparxoune, to apedikse prosfata mia epistimoniki omada "Yen" apo to Hong Kong me tin voithia tou Gianni Sotiri, kathigitis istorias apo tin THRAKI.
(o Giannis Sotiris se stigmi anapafsis)
I ereuna tis omadas "Yen" arxise apo tin erotisi "afou KANENAS den pistevi stus drakous tote giati PARA POLLI ANTHROPI exoune tatuaz me drakous?". tin apantisi edose o Giannis Sotiris "o anthropos pou anakalipse tin texni tu TATUAZ itane stin pragmatikotita enas drakos metamfiasmenos ! kai ekane moda ta tatuaz me tus drakous gia na min stamatame na pistevume se aftus! alla me tin poli TILEORASI kai tis AMERIKANIKES TENIES stamatisame na pistevume stus drakous ke arxisame na pistevume stus eksogiinus, tus maya kai ta robot!".
(ena apo ta polla tatuaz me drako!)
Ebnefsmenoi apo tin sokaristiki dilosi tou Gianni Sotiri, polla nea pedia arxisan na niothoune pos KATI DEN PAI KALA, pos KAPIOS kanei perierga pexnidia me to mialo mas. Enas blogger apo to Israil me nickname DRAGONHEART95 eftase tin erevna se ena AKREO STADIO poli pithana poli konta stin ALITHIA. o DRAGONHEART95 anarotiete to eksis "giati to Hollywood exi stamatisi edo ke merika xronia na asxolite me drakus stis tenies ? den ine tixeo pos o Giannis Sotiris ipe pos simera protimame na asxoliomaste me eksogiinus, maya kai ta robot! skeftite ligo... pies ine i teleutees megales eborikes epitixies stus sinemades? 2012 (maya!), TRANSFORMERS (robot), kai ena karo tenies me eksogiinus! Ola auta kati prepei na simenune! KAPIOS thelei na allaksi ta pistevo mas! Xtes rotisa se mia taksi enos nipiagogiu ti fovunte perissotero ston kosmo. Ego stin ilikia tus apantusa panta 'tus DRAKUS!' alla kserete ti mu apantisane? 'TA UFO!' Kati den pai kala ! Ke kapios sto Hollywood efthinete gia ola auta!". Afu ekane auto to post, liges ores meta, o DRAGONHEART95 sinelifthi KE KALA gia forodiafigi, ke meta apo mia s timeni diki bike filaki. Prin liges meres piga na ton vro sto keli tu stin Suidia, to prosopo tou xlomo, to soma tu adinamo, alla ta matia tou itane gemati zontania "Oi draki tha me sosune! Ke tha me pane makria apo auton ton dieftharmeno kosmo!" mou eipe xamogelontas. I sinantisi mu me ton Jim Kerofsky (to alithino tou onoma) mou edose tin dinami na sinexiso tis ereunes tou. KAI KATALAVA! i lisi ine toso apli! piso apo to Hollywood krivete mia mistiki organosi pu elenxi olo to buisness tu kinimatografu!
(to manifesto tis tenias DRAGONHEART, mia apo tis liges aneksartites tenies pu prospathise na mas aniksi ta matia. stin afisa grafi "YOU WILL BELIVE". alla kanis den pistevi...)
I organosi auti proerxete apo tin Organosi DRAGONSLAYERS tu Meseona, ta opia meli misusane tus drakus kai tus skotonane! alla i draki itane poli dinati! tote katalavane pos afu den borusane na tus skotosune eprepe na tus diagrapsune apo tin mnimi ton anthropon! To proto vima to kanane idi! me tin tenia animation DRAGON TRAINER thelune na apodiksune oti i draki einai apla CARTOON ke oxi ZONTANA PLASMATA SAN KE EMAS (alla me perissoteres dinamis)! To epomeno vima tha einai na svisune OLA ta tatuaz me drakus (giati nomizete exi anakalifti to LASER gia tin diagrafi tatuaz????). Ligi anthropi antistekonte stin katastrofi ton drakon, metaksi ton opion to Metal sigrotima DRAGONFORCE, pu omos kanis den perni sta sovara.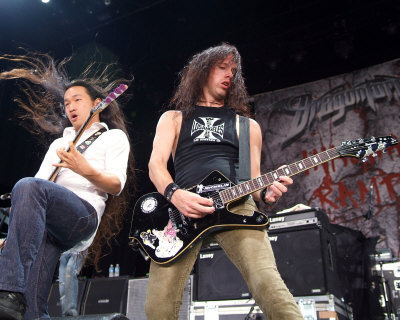 (i Dragonforce stin 'Sinavlia gia tin prostasia ton Drakon' pu ginete kathe xrono stin Lithuania)
GIA AUTO GIA AFTI TIN EVDOMADA BOIKOTARUME TO HOLLYWOOD KAI VLEPUME MONO EVROPAIKES TENIES POU EINAI POLI KALES KE AS TIS PEZUNE SE LIGUS SINEMADES (AFTO INE MIA ALLI ISTORIA DIAFTHORAS KE MISTIRIU OMOS!) !