ton kitaksa gia poli ora, ta gialia tu maura, i bira tu adia ke ta xeria tu gemata gialia ke karfia ke ta emata trexane san riakia mesa sto adio bar. Evgale ta maura gialia ke arxise na kleei astamatita ke na fonazi ke na vrizi tus theus ke kanenas eki trigiro tou edina kamia simasia. Itane kati to sinithismeno fenete se ekino to meros. Me ide pos ton ekitaza me aporia ke aidia ke thavmasmo, ke irthe pros to meros mou. Ke ida ta dakria tou na peftoune sto patoma san xilia astraftera diamantia. Mou eipe na min perimeno polla apo tin zoi, pos ola osa tha mou dosi ine mia duzina gamimena karfia ke gialia karfoma sta xeria mou. Ke mou edikse ta axrista xeria tou, prigmena ble ke gemata ksero ema. Vgika apo to bar ke arxisa na perpatao. O dromos adios, skeftomuna ke den skeftomuna kathos i ora pernousa arga ke vasanistika. Ine aplos mia alli mera san oles tis sinithismenes meres tis zois sou opou apla perimenis na pai i ora dodeka ke kati gia na pesis gia ipno ke na perasi i mera. Ke opos pepatousa pros to spiti ida ton Satana brosta mou ke anikse i gi ke vgike ena aspro alogo ke etrekse ke ta matia tou vgazane aspres floges gia na kapsi olus tus amartolus. Ke ena aftokinito idio me ola ta alla aftokinita pou vlepo kathe mera apo to parathiro mou na peranane ston dromo stamatise. Ke den vgike ekso kanenas.
TO TELOS INE KONTA!
THA KATASTRAFUNE OLA TA KTIRIA KE TA AGAPIMENA MAS DOMATIA THA GINUNE SPILIES KE ERIPIA!
TO KREAS THA LIOSI KE TA KOKKALA THA SPASUNE!
TA MAGULA THA TRIPISUNE KE TA PLEVRA TA LIGISUNE!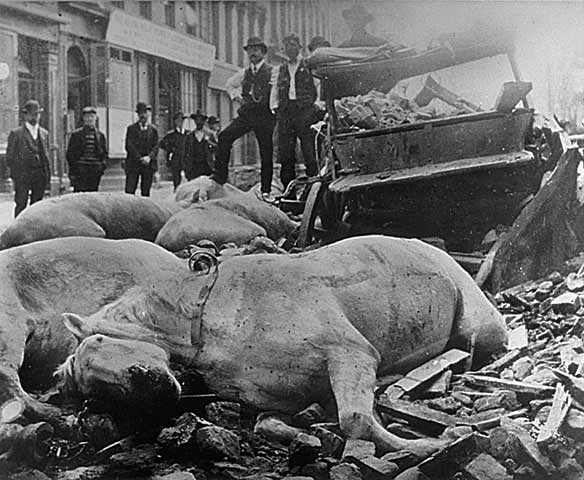 apo to vivlio IMEROLOGIO TU JOHN JAMES FAGERSPAZ ekdosis Spakfastek